Volunteer in Gilbert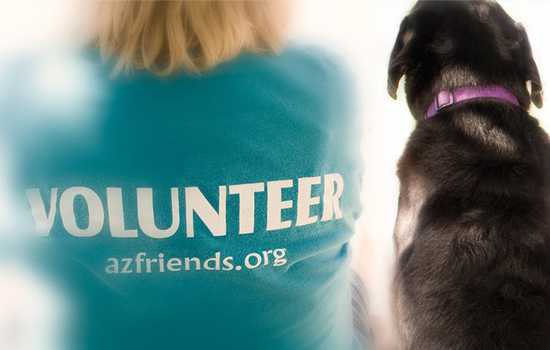 Want to be a volunteer helping animals? Are you looking for volunteer opportunities in Gilbert?
We are sorry but we currently not accepting any new volunteer applications.  
If you have specific questions about our volunteer program, please email: volunteer@azfriends.org.
We are also not currently accepting applications for junior volunteers, but please check back periodically for news on a new program we're hoping to roll out in the Summer of 2020.
Volunteer Orientation
Orientation is by invitation only and seating is limited due to space. Due to an overwhelming response, we have limited positions available.
Positions in greatest need are dog/cat caregivers, dog/cat adoption counselors, community relations, and fundraising team members. All applications will be considered but those with interest in our most-needed areas will be prioritized.
Volunteer Requirements
Please note that there is a $15 fee for all new volunteers to cover the cost of a volunteer t-shirt, name tag and training materials. Our Gilbert volunteer program includes the following requirements:
18 years or older
Commitment to serve a minimum of four hours per month
Volunteers attend training as necessary depending on their position
In addition to socializing with our furry friends, volunteers are required to donate a minimum of four (4) hours a month in one or more of the following capacities (Applications expressing an interest in helping in these areas will be given a priority over other applications):